🇨🇷 Saprissa vs. Puntarenas 25.01.2023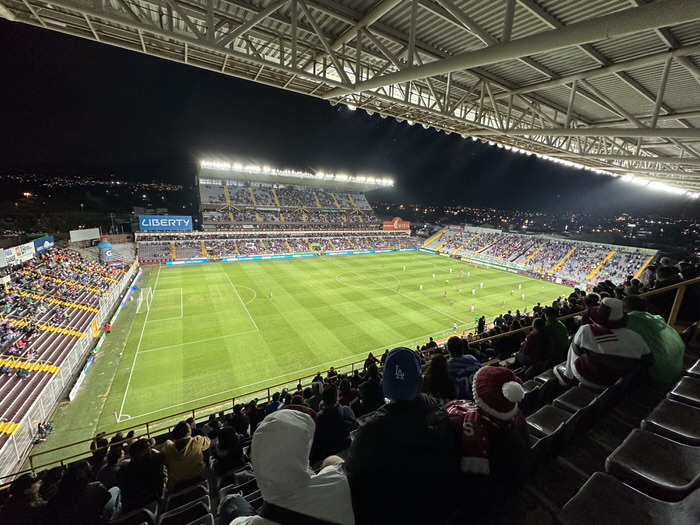 ⚽️ Deportivo Saprissa vs. Puntarenas 3:0
🏆 Liga de Fútbol de Primera División
🏟 300th ground, Estadio Ricardo Saprissa Aymá
🌍 🇨🇷 San Jose, Costa Rica
✈️ MEX - SJO 🚖 Cartago - San Jose
The last full day of our trip started with a homemade breakfast in our small hostel "La Casa de Mama Coyita", highly recommended when staying in Cartago.
As we had no rental car we took an Uber to visit the open to public lost place 🏥 Sanatorio Carlos Duran, a former tuberculosis clinics opened in 1918, which lies above Cartago at 2.330m height. It's okay to spend an hour there, however some buildings are currently closed for maintenance. The volcano 🌋 Irazu is located a bit further up the mountain.
Afterwards we went back to San Jose for our last night of the trip. We visited the national stadium and the city centre, there is not much special to do, but okay.
In the evening, Costa Rica's record champions Deportivo Saprissa played Puntarenas, the harbour town we visited two days ago. Saprissa's most popular former player is goalkeeper Keylor Navas, who recently joined Forest. The ground lies a bit outside in the north of San Jose and it was raining heavily. Before the match we had a beer under the small roof in front the "Späti" kiosk a few metres down the road. Afterwards we visited again their local club bar. We had our tickets for the steep longside stand, which had some views on the city. The ground itself is quite good and also the atmosphere was not that bad, South American tunes from the home end and a lively crowd overall were a nice wrapper for the trip.
Don't go to the Central Pub in town, their standard beer and Pizza are overpriced and service is horrible.
Next day, our return flights via Newark with United Airlines were scheduled, all good besides a 6 hour delay from Newark due to a broken (cabin lights) aircraft.