🏴󠁧󠁢󠁥󠁮󠁧󠁿 Colchester United – Newport County 26.11.2021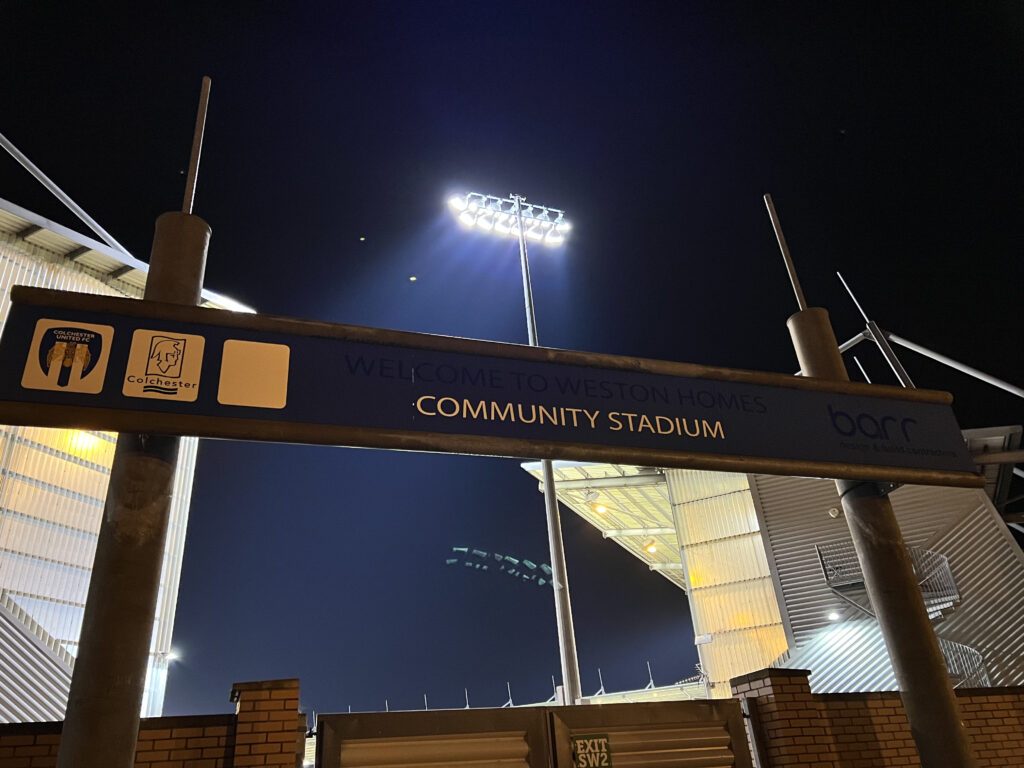 ⚽️ Colchester United - Newport County 1:1
🏟 JobServe Community Stadium
👥 2.401 - max. capacity 10.105
🍺 Greene King IPA & Carling 4£ pint
🥘 🥧 Chicken Balti Pie 3.50£
✈️ GIB - LUT, then 🚆 to Colchester, 913km from home
When I discovered that a return flight from Gibraltar / Malaga would have been more expensive then two flights directly from the great Gibraltar airport via London, it was clear that we extended our trip by one night near London.
My first WIZZ air flight from Gibraltar to London Luton was much better than expected, I got a free emergency exit seat and it was overall a good flight experience, better than EasyJet and much better than the narrow seat flight with British Airways the next day – I don't understand the added value from the "established" airlines… it is really down to the aircraft and the seating plan.
Arrived in London Luton – probably the most inconvenient airport in London as you need to go by a shuttle bus first before you can take an expensive train, it was a freezing wind and rain, welcome to the real U.K.
At London Farringdon station we had a good meal at Nandos, before we moved on towards Colchester via Liverpool Street. For the 2,5h journey from Luton airport we spent 120£, we probably could take a cab..
Colchester is quite a big city with almost no public transport and just a few taxis when you go north of the Colchester train station (not Colchester Town station) heading to the ground of Colchester United. Our small "hotel" was near that train station and after we were able to find Carsten, we walked the 45mins to the ground on Mile End road. There is only one pub "Dog and Pheasant" on the way, where you need to ask yourself if the next door Co-op supermarket has the better beer selection… there is also a fish & chip shop. The ground of Colchester United was opened in 2008, even though it still has the traditional English architecture with four separate stands and floodlights in each corner, the ground concourse had a good selection of beer and food with good views from all seats on pitch. I quite liked it…
Newport County from Wales was the better team in the first half, while the game turned around in the second and the hosts scored for a deserved draw. The U's created also a bit of atmosphere.
After the match we could not organise a taxi again, so we walked over an hour with a quick stop at that industry draft pub, into the town centre of Colchester. Surprisingly, the town centre was buzzing on a Friday night with some great pubs like Three Wise Monkeys and the small Queens Street Brewhouse.