🏴󠁧󠁢󠁥󠁮󠁧󠁿 Bolton Wanderers vs. Wigan Athletic 16.10.2021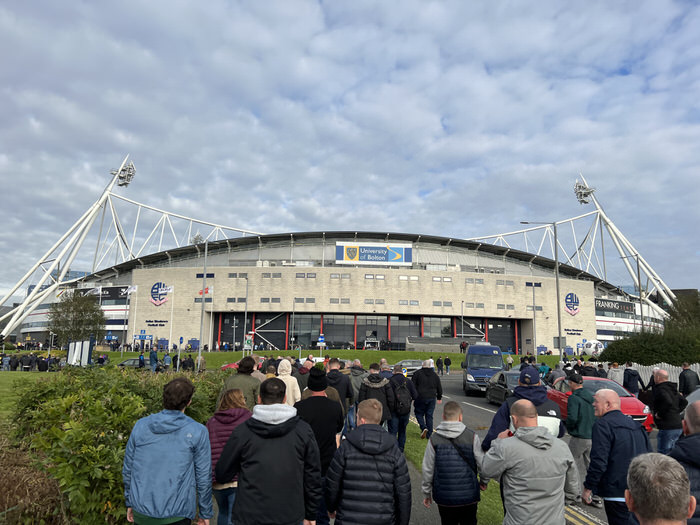 ⚽️ Bolton Wanderers vs. Wigan Athletic 0:4
🏟 University of Bolton stadium
🎟 25 £ lower tier behind goal (booking history required)
🍺 Carling 1.90£ half pint
🥘 🥧 Chicken Balti Pie, yeah still available at half-time but a bit burnt
✈️ 🚆 1286km from home, train from Manchester
On the Saturday, we headed back north from Burton-on-Trent via Sheffield, Manchester towards Bolton. The trains from Sheffield to Manchester were packed and we had to take the later and longer taking local train due to COVID restrictions, even though that train was packed and in the normal express train only the seats were occupied. So during the wait time we went into the Sheffield station tap pub, where a lot of different football supporters made a quick stop on their way to the various towns around – a proper Saturday morning in North England.
Back in Manchester, I got the tip that we could buy a Greater Manchester day ticket called Rail Ranger, which you can use the whole day not only to our next destination Bolton or better Horwich Parkway, but also to Poynton where we should spent our evening with our good friends.
Then it was local Derby time between Bolton and Wigan. Bolton's ground lies in Horwich, a town in between Bolton and Wigan. It was a derby, which ticked most of boxes – away and home fans entered our train for the last journey from Bolton to Horwich Parkway, segregated by the Transport Police. Then on the way to the ground, a lot of police was there including horses and dogs.
Tickets for the match were with home booking history only, so thanks a mate we managed to get in, while the away allocation was quickly sold out.
Especially the away stand had something to celebrate, a very good football atmosphere and a well playing away side. Back from Bolton, we made a quick stop at the Cloudwater brewery to cheers our ticket organiser and then we met up for a great final evening in the small but lovely town Poynton.
See you next year, England!