⚽️🌎3️⃣2️⃣ 🇹🇷 Serik Belediyespor vs Niğde Anadolu 10.11.2021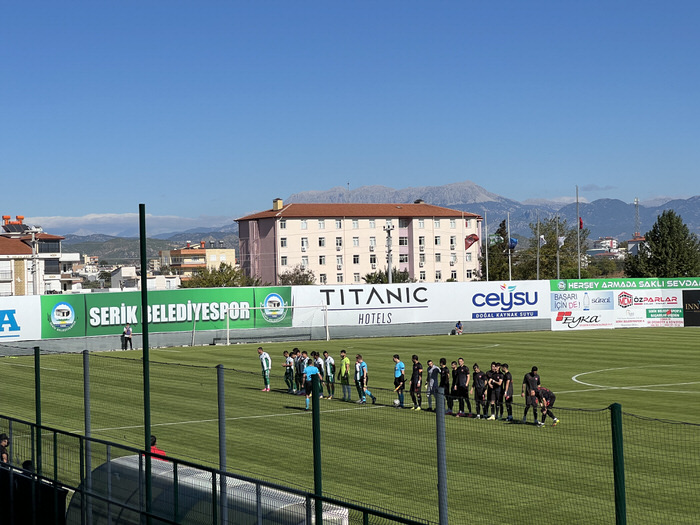 ⚽️ Serik Belediyespor vs Niğde Anadolu 3:2
🏆 2. Liga Kirmizi (3rd tier)
🏟 Serik İsmail Oğan Stadı
We booked a month ago our last family holiday of the year to Antalya at the Turkish Mediterranean Sea coast – warm, cheap and have not seen football in Turkey, this was really the only option, the other was VAE, which would have been much more expensive.
Since then, I was planning to see a match during the week. The virus made it even more complicated to attend top flight games in Turkey. I purchased my Passolig football passport and delivered it to the Antalyaspor stadium since they had a home game at Saturday. Three days before match day, the game was on sale via the Passolig app and the fun began. You need to put alongside to your passport the assigned HES-Code (the Turkish COVID-19 tracking code), which is used to get do all sort of activities within Turkey, e.g. to attend football matches. The problem is that you need for all Passolig football matches, a HES-Code with a verified COVID-19 status (3G). And this is as far as I discovered it, not possible or much of a hassle for foreigners. First of all, you get the HES-Code with your tourist immigration form, but it does not let you add your EU vaccination certificate. The other option (normally only for Turkish residents) to get a HES-code is via the Hayat Eve Sigar app, which you cannot use without a Turkish SIM card – they claim to accept any mobile number but if fails since app launch – even though you would use a Turkish SIM (I tried that one), you are not able to add your EU vaccination. The HES-code created via SMS brings you to the same stage as the tourist HES-code from the immigration – so it's a pity. Logically, I tried to contact the club Antalyaspor via Email, Facebook / Insta no response as well as via phone – even though they had an English IVR, they said they cannot speak English and stopped the call… In the end, my Saturday afternoon with the family and the great warm weather was too much to invest to go 1,5 hours to the ground and to not see the game in the end. On Sunday, there was an amateur league match (5th tier), however that was the last hot day of the holiday, so I skipped that one too and went all in with my last bet.
Wednesday noon 1'o clock – what a great kick-off time (for people being on a holiday) for a 3rd professional league match between Serik Belediyespor and Niğde Anadolu. I knew that the game was on and that since of today all matches are run full capacity again (don't know if this applies for all leagues / regions). The big unknown about the entry criteria remained until I arrived at the ground 10mins before kick-off – the 45mins car journey took me from very touristic hotel villages to rural simple areas with great panoramic views on the hills. At the ticket stall, I bought my ticket without any questions for 20 Turkish Lira and at the turnstile they wanted to scan my Tourist HES-Code to track my contact details (similar to the LUCA app in Germany) and I was in the ground – excited!
The ground has got an old main stand with wooden banks, which was used for the match and a brand-new opposite stand with plastic seats. Behind the goals, only one side has got a small terrace with three steps split by the score board. The whole day was very windy at 22 degrees and nobody was wearing shorts or t-shirts but long sleeves or even winter jackets – I changed every couple of minutes between the shade and sun seats on the main stand. The opposite stand is still about to be opened, a midweek fixture is probably not the one they need it for. The match itself was pretty entertaining with five goals in the first half, but flattened during the second.
As there was no catering available inside the ground, I had my meal at a local butcher with BBQ grill onsite inside Serik's old town – Kanat (chicken wings with kebab bread and salad) and a coke for 50₺ – great!
All in all, I did not mind at all. I am more than happy that I got to see a match and this was my first match on the Asian continent even though obviously Turkey is part of the UEFA. And I equaled my Länderpunkte count with my current age.
Luckily, I turn one year older later this month, I will go again very soon (hopefully).