🇳🇱 Fortuna Sittard vs. Ajax 21.09.2021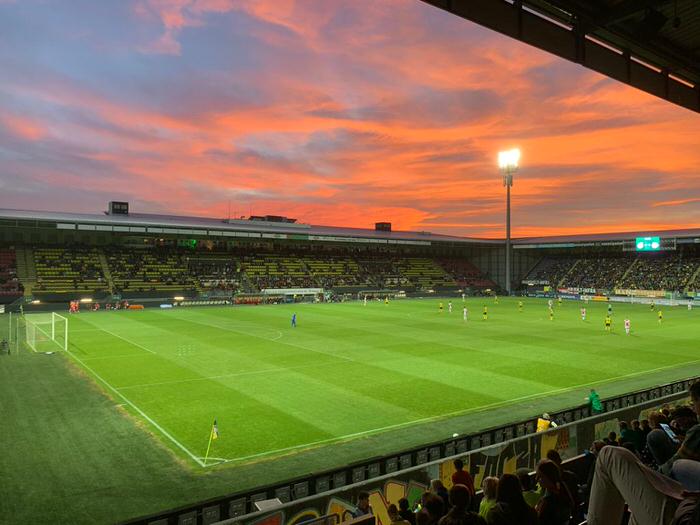 ⚽️ Fortuna Sittard vs. Ajax 0:5
🏟 Fortuna Sittard Stadion
🎟 27,50€ plus Club Card fee 5€
🥘 Frikandel, Bitterballen before the match at the station
✈️ 67km from Nettetal (590km from home)
I visited for two nights my work colleague's town Nettetal, which is near the Dutch border for his belated birthday party. So what a great opportunity to pick up a game across the border. As my colleague is Dutch, I had a local with me this time. We took the short car ride to Sittard, where we had great Bitterballen and Frikandel with chips at one of the traditional Dutch snack bars near the station. Then we had a beer at the marketplace, before we walked back to the ground of Fortuna Sittard, where our car was parked. For that midweek evening fixture, it was pretty much the match of the season for the club as they welcomed Ajax.
You had to get a club card with Sittard to get a ticket for this match, so I had to deactivate my existing club card at PSV first, before I could buy a club card at Sittard – some kind of a pain as they also not accepted any other payment than Dutch bank accounts… and of course you needed a full vaccination to get in.
The ground itself reminds me of a modern but traditional four stand English architecture, only that they put a ALDI supermarket inside our stand's corner… and as quite often, you needed a top-up stadium card to buy drinks and food, which always is some pain and takes time if you go to a ground only once.
Apart from that, it was a completely one sided affair with Ajax being the dominant team on the pitch and could have won by an even higher margin.
Ajax is quite some team this season to beat as you can see also in the Champions League group stage.
I like the Netherlands and their people.