🇷🇸 Radnicki Niš vs Novi Pazar 25.02.2022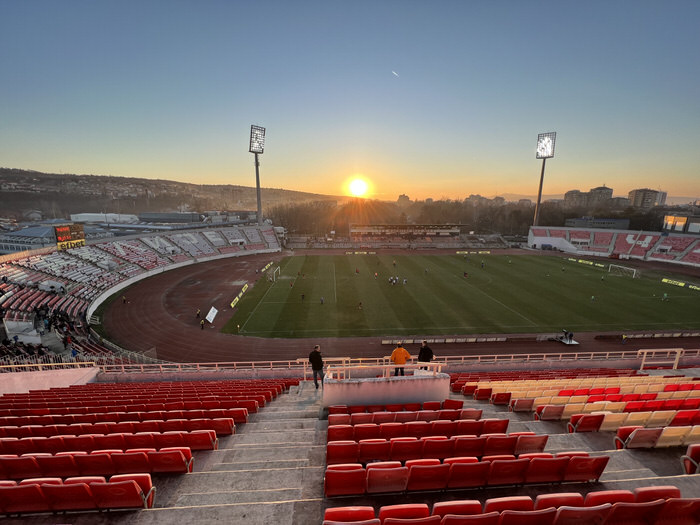 ⚽️ FK Radnicki Niš vs Novi Pazar 1:1
🍺 no catering, bring your own
✈️ 🚙 Beograd to Niš (1468km from home)
Rental car is pretty much the only option to go around in Serbia as the public transport beyond cities is very limited. As we did not return the car at Belgrade airport, the cheapest one way fee I found was 200€. In addition, we needed to pay 50€ for crossing border to Macedonia. Most of other border crossings (Romania, Bulgaria, Kosovo, Albania) are not allowed, which makes it even harder. Anyway, the initial plan to see a game in Sofia by driving to the border and take a taxi from there was changed after CSKA Sofia was not allowed to play with fans due to sanctions.
So, we made it less stressful and stayed for one night in Niš, the 3rd largest city in Serbia. There was not much to see during the 2,5 hour drive from Beograd, almost no industry, small villages with rundown houses and the EU-financed motorway.
The city itself was very much Ostblock at its best, Volgograd looked prettier to say the least. But the absolute highlight was the ground of FK Radnicki Nis aka Lost Place. The stadium holds more than 18.000 in theory since the renovation was completed in 2013, well they stopped after the inside was kind of finished. The concourse area was a lost place, cannot be described with words look at the pictures. But how can these clubs generate any legal income, if you sell 500 tickets at 1,20€ each and don't sell anything but sunflowers?
After the match we found a great restaurant for dinner called Stambolijski and the best craft beer bar goes to MINISTARSTVO Beer Bar by far.