🏴󠁧󠁢󠁥󠁮󠁧󠁿 AFC Wimbledon vs. Fleetwood Town 27.11.2021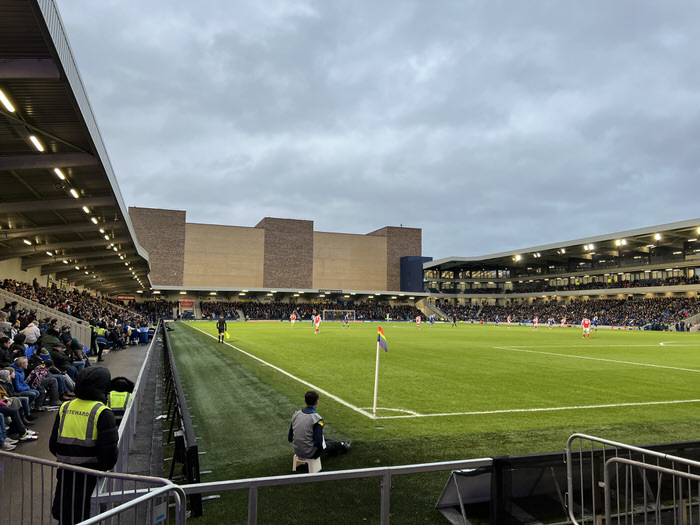 ⚽️ AFC Wimbledon - Fleetwood Town 2-2
🏆 Football League League One
🍺 Campen Pale Ale 5.50£ pint
🥘 Chicken Balti Pie 3.50£
🌍 Wimbledon, London, England
✈️ GIB - LUT, then 🚆 from Colchester, 1067km from home
On Saturday morning we travelled from Colchester back to London and walked around the festive decorated Soho, before we headed to the last game of our trip, to the newly built ground of AFC Wimbledon. They returned to their old area at Plough Lane. It's a nice modern ground with a lot of food and drink options behind the stands with food trucks and also their own bar, which was great to warm up a little during halftime.
Inside the ground was still a little bit unorganised, the security should be replaced by ground staff, who understand football rather than security. Our seats next to the away stand were blocked with barriers and these were put in place after each fan tried to get to his seat.
Anyway, AFC Wimbledon is not only the highest playing fan-owned club in England, it's also a very likeable club. I enjoyed also my former visits to Kingsmeadow, may the journey long continue.
Tipp: I used for the first time Radical Luggage to leave the luggage within a grocery shop next to Paddington station – it worked great and was affordable.