🇩🇴 AS Cavaly vs. Olympique de Cayenne 18.05.2021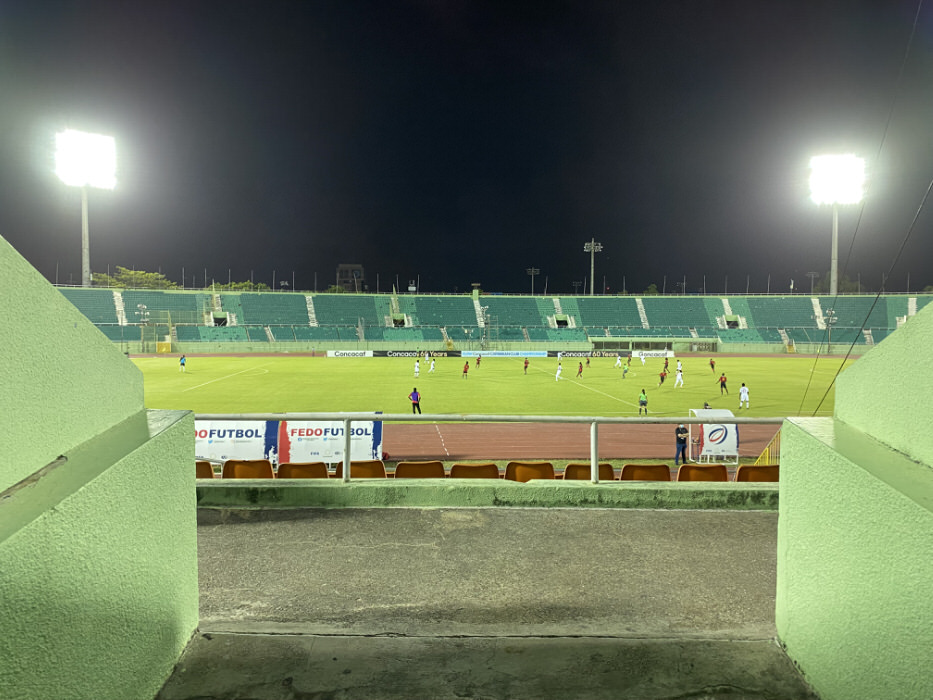 ⚽️ AS Cavaly vs. Olympique de Cayenne 5-0
🏆 CONCACAF Caribbean Club Championship
🏟 Stade Olympique Félix Sánchez (max 27.000)
🍺 100RD$ Presidente Light 0,237l - 1,44€ (they opened the kiosk for us!)
🌍 Santo Domingo, Dominican Republic
✈️ 30 km from San Cristóbal
How can a day become better than watching a football match after 7 months without live football? Right, watch two matches in one evening.
I was more than glad to park my rental car at the Barcelo hotel near the National Stadium Félix Sánchez, where I happily met several German groundhopper and we had a quick dinner. Respect to the ones who made the Länderpunkt Haiti – impressive stories!
After that, we went to the National stadium of Dominican Republic, which is a nice bowl, unfortunately with just a few fans inside for another group match of the Caribbean Club Championship. Cavaly, a club from Haiti by now won the competition, versus the champions of French Guiana. The match was a one sided affair for Cavaly and even some fans from Haiti were there.
Great experience that I was able to squeeze in some football on my first Caribbean island and my most southern country to watch football.