🏴󠁧󠁢󠁥󠁮󠁧󠁿 Burton Albion vs. Morecambe 15.10.2021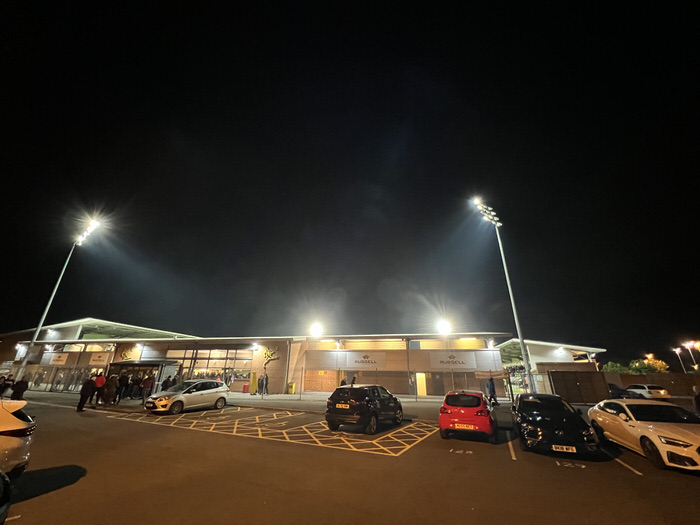 ⚽️ Burton Albion vs. Morecambe 3:2
🍺 Carling and Pravha 1.80£ half pint
🥘 Beef Leak Pie and Chips with Curry sauce quite good for stadium food
🌍 Burton-on-Trent, England
✈️ 🚆 1286km from home, train from Manchester via Sheffield and Derby
Friday night league football at the Brewers, what can go wrong?
Airports getting busy these days again during the autumn school holidays and the new Berlin airport and it's shortage of staff can't handle it – unbelievable for a capital and no wonder that there are no oversea destinations really – at least direct flights at weekends to Manchester are back.
Big immigration queue at Manchester airport, however they can manage it seamlessly – in Berlin we would have waited for 3 hours instead of 30mins… This time we collected our day 2 COVID self-test kit at the airport from Randox, which comes cheaper st 35£.
From Manchester it takes 2 hours to Burton-on-Trent (either via Sheffield or Birmingham), the home of the brewers. Lots of local breweries and of course the big famous Carling (now owned by Molson) brewery. We stayed at the ibis Budget, next to the station. Inside the hotel car park there is a nice little pub called The Weighbridge Inn. The pub has got a chimney and owns a small brewery called the Muirhouse Brewery. The owner is an Ipswich Town fan and has connections to Fortuna Düsseldorf.
Next stop was the Old Royal Oak pub, which serves great small pizzas at weekends and has some cask ales and draft at the marketplace.
From there, we took a taxi to the Pirelli stadium, a nice little stadium with 3 out of 4 stands standing terraces (great but quite uncommon these days in the football league). It has a bar with food inside each stand. Atmosphere for a Friday could have been better, the Brewers did not seem to have the most vocal fan base.
On the way back to the hotel, the only option was walking the 30mins. We stopped at the Alfred pub, a pub with two sides and a chimney, too.
I am back in the 60's of my 92 journey, you need to do at least 4 92 grounds every season to make some progress due to the ground changes and clubs going bust… It's a long way to Tipperary.