🇸🇪 Kalmar FF vs. BK Häcken 12.07.2021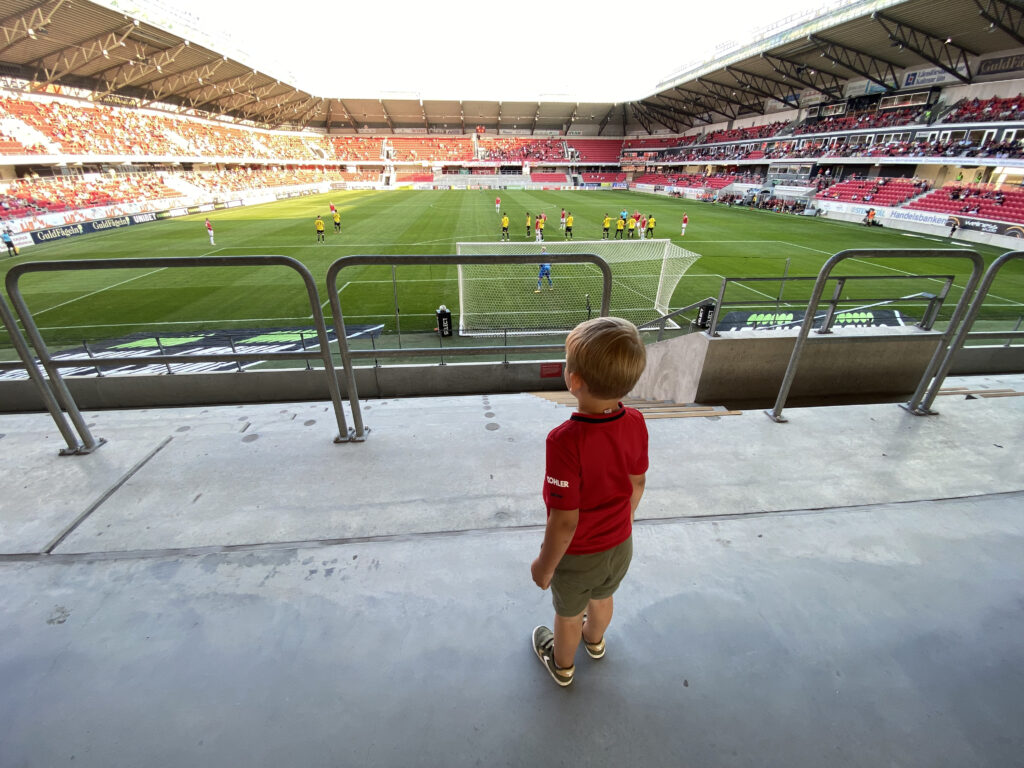 ⚽️ Kalmar FF vs. BK Häcken 2-3
🏆 Allsvenskan (1st Level in Sweden)
🏟 Guldfågeln Arena (max 14.000)
👥 2.787 (Corona restricted, but not sold out)
🎟 260kr (26€ - my son was free)
✈️ 805km from home - 45km (from holiday apartment)
During our Sweden summer holiday, it was time for the first proper football match of my eldest son Arne (4,5 years old). He has been to a couple of non league matches in Germany and one in Poland, however not in a real stadium with stands on all sides. So a Monday evening match in Kalmar was a great opportunity to change that. We had a short drive from our stay near Borgholm on the island of Öland back to the mainland across the bridge to the stadium of Kalmar FF. The top flight club welcomed BK Häcken on the 10th match day of the Allsvenskan league 2021.
Due to the restrictions, a ticket was guaranteed to Season Ticket holders first and no public sale was announced. However, two days before kickoff everyone was able to buy a ticket online via the club shop – so did I – 26€ for me and Arne went in for free.
We parked at Kalmar's trainings ground for free and had a surprisingly short walk to our entrance gate, which was literally 100m from our car park. When we entered the stand, Arne was full of joy how big a football stadium can be. We had our seats for the first half behind the corner flag, before we changed it a bit more to the half-way line – the stadium was even with the restrictions not full and you could easily walk around and choose your seat. At the break, we wanted to buy some jellies and drinks, but that kiosk accepted neither credit card nor cash, only Swish – a mobile payment method, which you cannot use without a Swedish bank account (this seems to be not unusual, others doing the same in a rather touristic area) – luckily they gave it us for free – cheers – overall a welcoming club.
A good and constant support by the home fans was created throughout an entertaining match with lots of goals, which the away side Häcken could win with 2-3 in the end. We left a couple of minutes earlier – 90mins plus halftime is a little bit too much to ask for from a four years old boy. Before we went back to our holiday stay, we had a fast food meal at the back of one stand.
Overall, a great evening and long lasting memories – happy holidays!