⚽️🌍3️⃣3️⃣ 🇬🇮 Lincoln Red Imps vs FC København 25.11.2021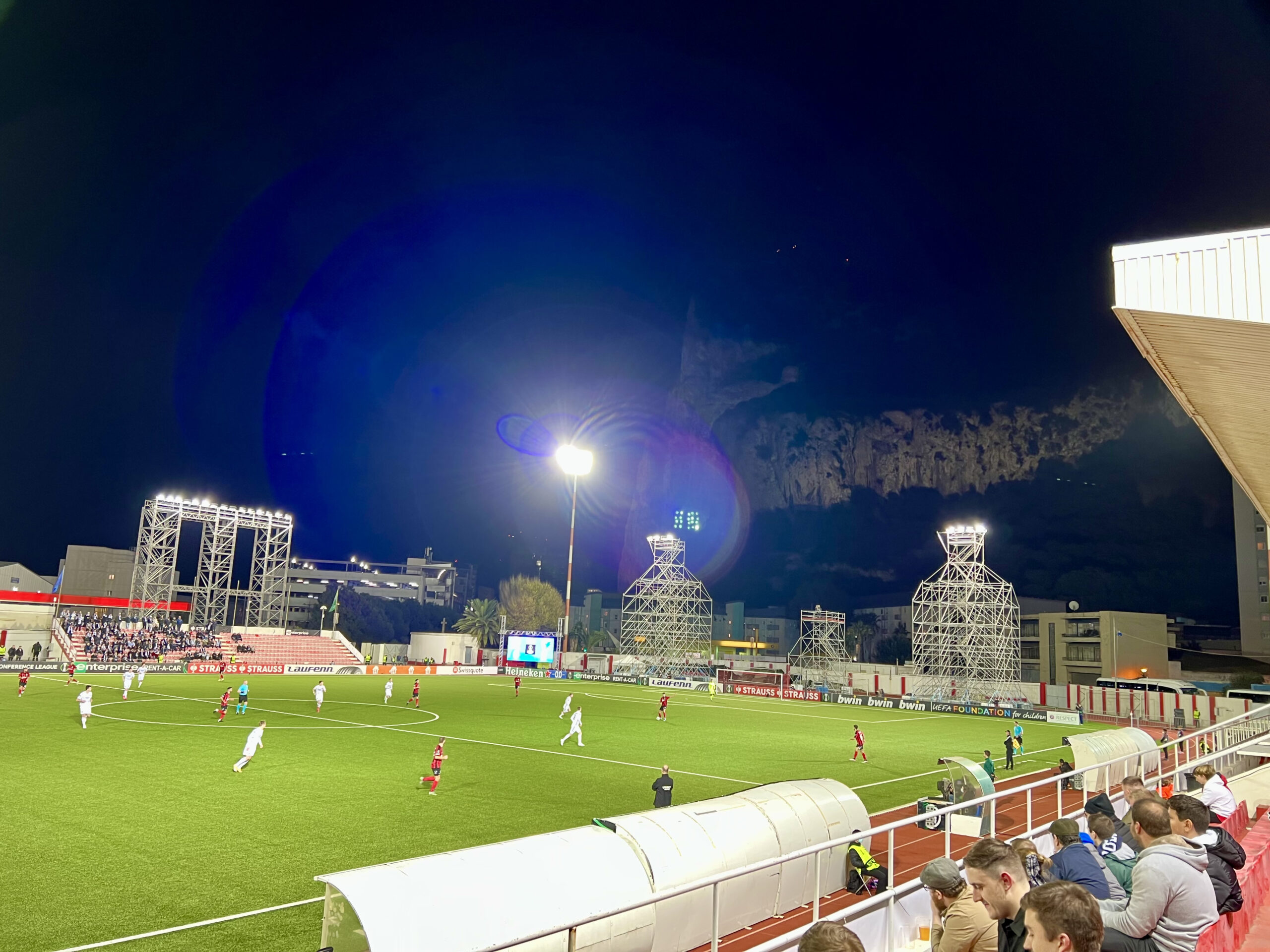 ⚽️ Lincoln Red Imps vs FC København 0:4
🏆 UEFA Europa Conference League
🌍 Gibraltar, Gibraltar 🇬🇮
✈️ BER-AGP 🚗 to Gibraltar🚶500m walk across the border from apartment in Linea
My final escape as another lockdown is looming in Germany. Before the curtain falls again until late Spring, I looked for options to catch some football abroad. Gibraltar was on my list for some time and to do it on a European night was even better. So Uwe and I booked flights to Malaga and took a rental car as this is the only viable option to do make the journey to Gibraltar. Returning a rental car not at the pickup point seems still not very common in that business, which is just weird.
We stopped near Marbella for a lunch at the sea and arrived after 1,5 hours driving at Linea de la Conception. Our car return was booked for Gibraltar airport, so we passed the border by car, crossed the airport runway and learned that the car return was on the Spanish side. Well, at least I can claim I was driving in Gibraltar and passed an operating airport runway.
We booked a tiny apartment directly at the border in Linea for 40€ all-in. After we solved another of these 'how to access my apartment' games, we found ourselves with a nice view on the street of Gibraltar. The apartment game included this time: watching a timelapse YouTube video, two phone calls and a pin code.
Time was flying, so we left the E.U. by foot to enter U.K. soil again. After the border, only the airport runway is in front of the beautiful Victoria Stadium in Gibraltar. What a scenery with the runway on the one hand and the Rock on the other side, which is present everywhere you go in that little land.
It's probably the only place in the world due to space that you can walk/drive a live runway. When a plane departs or arrives the street is closed for a couple of minutes, after that traffic continues to cross the airport with no fences or barriers in between.
Floodlights were on, Copenhagen support were in good numbers, the sports bar and petrol station served beer and the police was calm and friendly, you cannot ask for more.
We went into the home stand for the game, which is the main stand of the Victoria stadium, on the opposite side the away support was situated. The game started with a bang of three goals for Copenhagen, so from early on the potential first group stage points for a Gibraltar side in a European cup were out of the possible.
At the same time, heavy rain started and continued into the night, which never stopped the away support from singing, which was great to see. Luckily we had a small cover at the back of the main stand, where also beer was served. It was a great night.
As time run out before the match, we were the first passengers of the cable cars 🚠 in the next morning to get to the top of the Rock 🪨. What a landscape and clear sky view on the Africa continent, street of Gibraltar and the European continent. The monkeys and run down bunkers were adding to the view. Only a couple of minutes later we had to go down again as our flight from the Gibraltar airport was departing soon. Our bus had to stop at the runway traffic lights as our plane arrived, but there was no rush as the Gibraltar airport is very convenient and simply great. A fully equipped airport for only a handful flights a day with an open air terrace at the gates, that is great! But our trip did not stop here…